Posts: 2909
Joined: Mon Jun 28, 2004 3:44 pm
Location: Minnesota
Weeks 7 & 8 - Vivaldi & Bach - Baroque Music Review - optional biography CD
If you don't have the CD from CTG on hand, my library had
Lives of the Musicians
on audio CD, which included short biographies of Vivaldi & Bach. This book was recommended on the book basket list for CTG or RTR, I think.
Week 7 Vivaldi - Baroque Music Review
During the week when we reviewed Vivaldi from CTG (an idea which I just loved!),
we looked at ds's old notebook pages
, including his illustrations of Vivaldi's 4 seasons, as we re-listened to Vivaldi's biography and music.
I also found it was a good time to discuss orchestra instruments
. I had noticed that most of the other Vivaldi cassettes I had around the house mentioned specific instruments, such as "Oboe Concerto," "Mandolin Concerto," "Concerto for 2 Flutes," "Cello Concerto," and "Concerto for 2 Trumpets." Ds & I listened for the specific instrument's sound, and then we looked at the instrument in a book. He knew many of them, but had gotten a couple of them mixed up in his mind. It was a laid-back review of several things we had learned over the years.
- If you don't have the CTG music, cassettes of Vivaldi music are often at the library, or they often sell for less than a dollar at ChristianBook or used bookstores, and you can often spot pieces that feature specific instruments in their titles.
- There are many books on instruments, but we used
A Young Person's Guide to Music
, which is a DK book with many photos.
Week 8 Bach - Baroque Music Review
While we reviewed Bach, we also looked at ds's old notebook page as we listened to the biography & music CDs again. Ds began to think of Bach as an old fogey organ player, so I searched around for some non-organ Bach. S
Some time back, I had given my son a couple CDs from the "Instruments of Classical Music" series as a gift. These worked well, plus a few other CDs we had around. These CDs were not for teaching him what the instrument sounds like, as we did with Vivaldi. Instead, they are just instruments that my son enjoys listening to (not the organ!).
* The Trumpet, The Instruments of Classical Music series, has a beautiful version of Ave Maria and a few other Bachs
* The Harpsichord, The Instruments of Classical Music series, is mostly Bach including his Concerto specifically written for Harpsichord
* The Very Best of Bach, from the Vox "very best of" series, has 3 short Bach pieces played on guitar.
Colonies - Extra notes
During weeks 7 & 8, several colonies are in the readings but not all are assigned notebook pages. If you want to notice/discuss every single one,
here is a list I made of the colonies covered in weeks 7-8
:
The Carolinas - optional instructions are given (by the way, the very first settlement of Roanoke became part of NC, so I suppose you could mention it here even though it was Virginia then? How's that for making the colonies confusing?!)
Maryland
Virginia
Book basket
Cobra
by Van Wallach
Silver Dolphin Books
My son said his favorite book basket book for Animals has been a hands-on type of book called
Cobra
. Not that snakes were a major study this year -- I think he just likes more hands-on exploration, even at age 12.
The book has clear plastic insets with layers including models of bones and organs and such. We had one like this when we studied the Human Body in RTR. I think they were cheaper at Sam's Club when we used to belong to there.
Last edited by
Julie in MN
on Sun May 03, 2009 6:11 pm, edited 11 times in total.
Science - We did the human camoflage activity with face painting supplies and mom's makeup which was a big hit. I think that those hands-on are really important for the younger kids to stay interested.
Posts: 24
Joined: Mon Jan 31, 2011 5:08 pm
TriciaMR wrote:Say, does anyone have a photo of their canoe from EXP1850[2nd-3rd supplement]/Adventures that you could share? I'm reading the directions for that project and I'm not really getting how it will turn out...

Thanks
-Trish
This isn't the best pic, but we just did this project - Sylvia's holding it along with her Sybil Ludington book.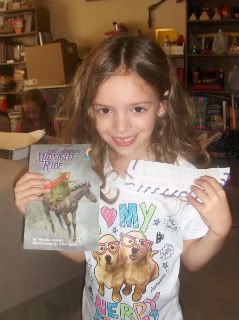 MFW-Lucy
JulietteAkers wrote:Hi. Why do I need first aid bandage tape for week 8 science, which is coming from "World of Animals" in the amphibian or reptilian sections? I read through the lesson plan and missed why I needed this supply for this week. Help!

Ah, ha...

The bandage tape is for Week 9 science, though it is listed as a supply in week 8. OK, so I am ready for next week, at any rate...

Regards,
Julie Akers
cbollin wrote:in my edition of EX1850, those pages of the book in World of Animals (82) are in week 8. not in week 9. Is your edition maybe a difference there?
Thanks for bringing this to our attention. This book had some changes made to it and the grids and page numbers were updated in the T.M., but the supplies were not moved to the following week. This has been noted for the next time this T.M. is reprinted.
Blessings and happy experimenting!