We're having fun in Creation to the Greeks! Ds is enjoying the hands-on in CTG. We've done tons of drawing & painting (including while listening to Vivaldi), science projects with everything from egg cartons to rubber boots to clay, making centerpieces & building a booth, building our timeline, making the 10 commandments poster, games with index cards for books of the Bible and Greek words, and more I'm sure I'm forgetting.
Reid is so proud of his Moses costume he created. Maybe because he has a mom who NEVER does stuff like this with him :o) We cut & stapled newspaper until he made a pattern that he liked, and then we cut up a bedsheet. After dh's great effort, we got my old sewing machine to work. Here's the result -- a happy camper acting out the 10 plagues! He even asked if he could share his own message (see below)!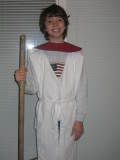 Reid's point of view: i'd say the creation of the greeks could be one of thy funnest things in homeschooling. i may not like it later but i sure like it now! i really, truely am proud of my creation and the plauges we are acting out. i'd say alot of people should do it and make it as fun as possible! CtG IS thy best thing....ever.
(Sorry -- he doesn't think grammar is important on the computer -- he really even knows how to capitalize :o)